Gift Ideas From Turnabout Home

---
The countdown for Christmas gifts buying is on! Now is the time to check out these great gift ideas from our Turnabout Home Store. Earlier this week, David Raposo, our Merchandising and Display Guru, shared gold and glittery Christmas themed décor we stock but today, we asked him to share ideas for gifts that are unique and cherishable by nature.
Among the most common holiday stressors is partaking in the quest to find 'perfect' gifts for those on your list. Why put that pressure on yourself? Perfection is overrated! Instead, go for gifts with character — ones that will not be forgotten after the cork is popped or lost in a flurry of wrapping paper chaos.
Glassware
As a society, we celebrate by 'tipping a glass.' Whether it is Champagne or the finest scotch your budget allows, the stemware we use for special events become special to us. When gifting a set of beautiful cut-crystal flutes or weighty tumblers with a decanter, you are providing the recipient with items with which to create memories.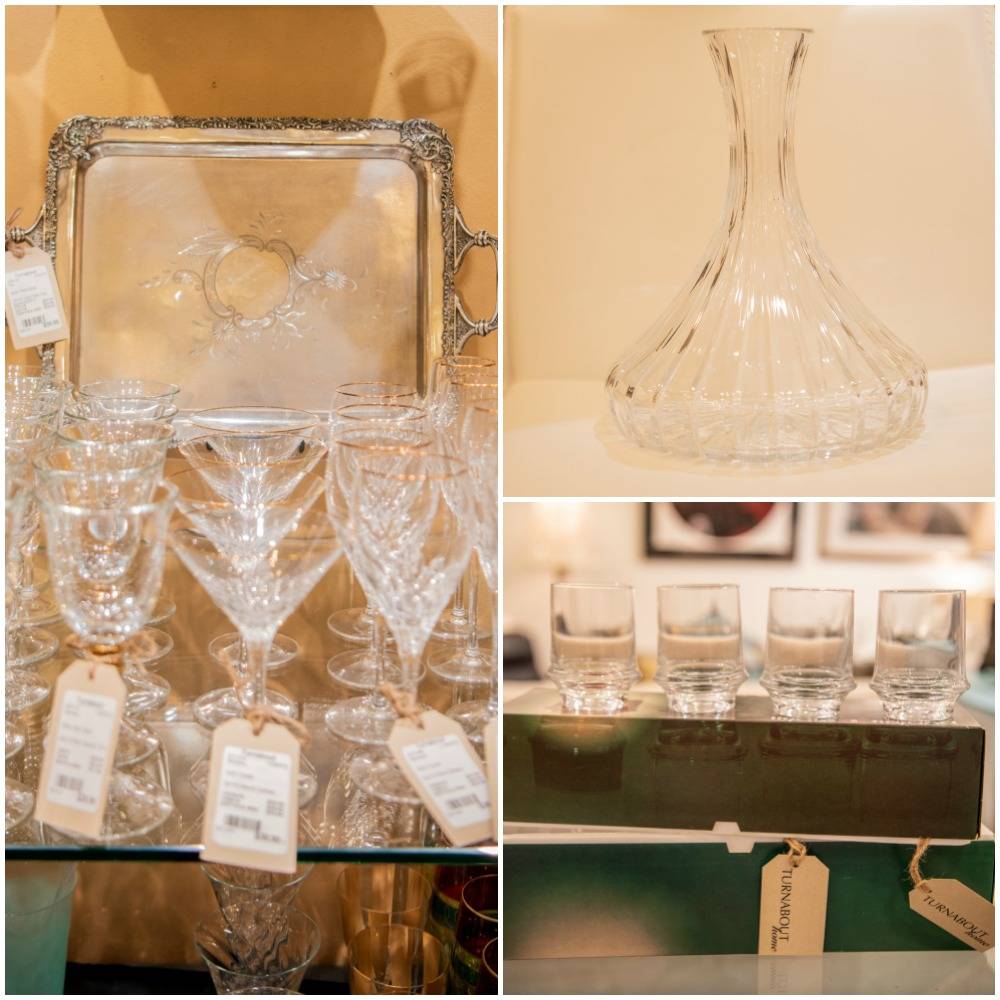 David loves holiday parties, and recommends instead of the usual bottle of wine as a hostess gift, "consider stemware, because you can never have too many since one or two usually get broken when you are having a good time!"
Silver Trays
A traditional wedding and anniversary gift, silver/pewter is a time-honoured metal for gifting to mark occasions. Antique and newer decorative serving trays are enjoying a resurgence in popularity, no doubt thanks to home décor influencers social media posts! All kidding aside, large serving trays are versatile to (gasp) deliver food on and are great conversation starters.
David weighs in on this trend, noting "they are great elements for coffee table displays by placing either floral arrangements, decorative décor, and candles on them. Use creates an organized display that is not only elevated but statement-making!"
Artwork
While the meaning of artwork may be considered subjective, a beautifully creative piece with texture and colours will be most welcome. At Turnabout, we like to say that a well-chosen piece of art can change the whole feeling of a room.
Decorative Ceramics
For the home-renovation aficionado in your circle, decorative tiles are lovely pieces that everyone will appreciate. They are versatile and can be displayed on ornate stands, hung on the wall, or even incorporated into the next kitchen remodel.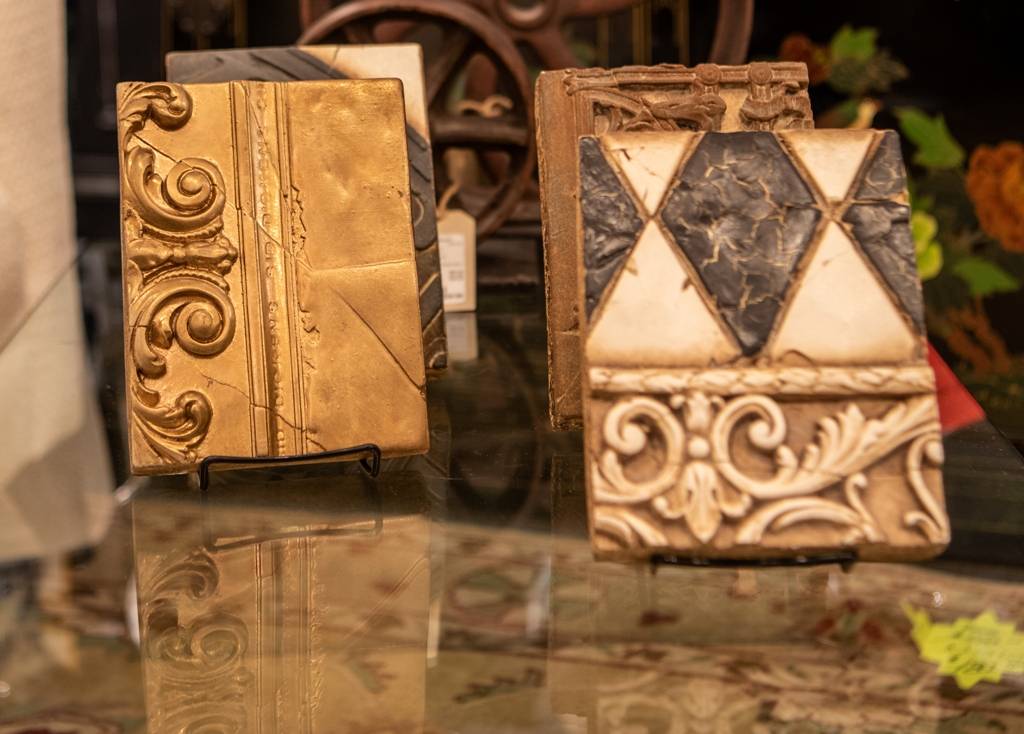 David feels that tiles, like the ones by Sid Dickens ones above, "are a creative way of grouping together a theme, story, or memories. It's also a fun way for a collector to combine whimsical and diverse pieces to make an impact."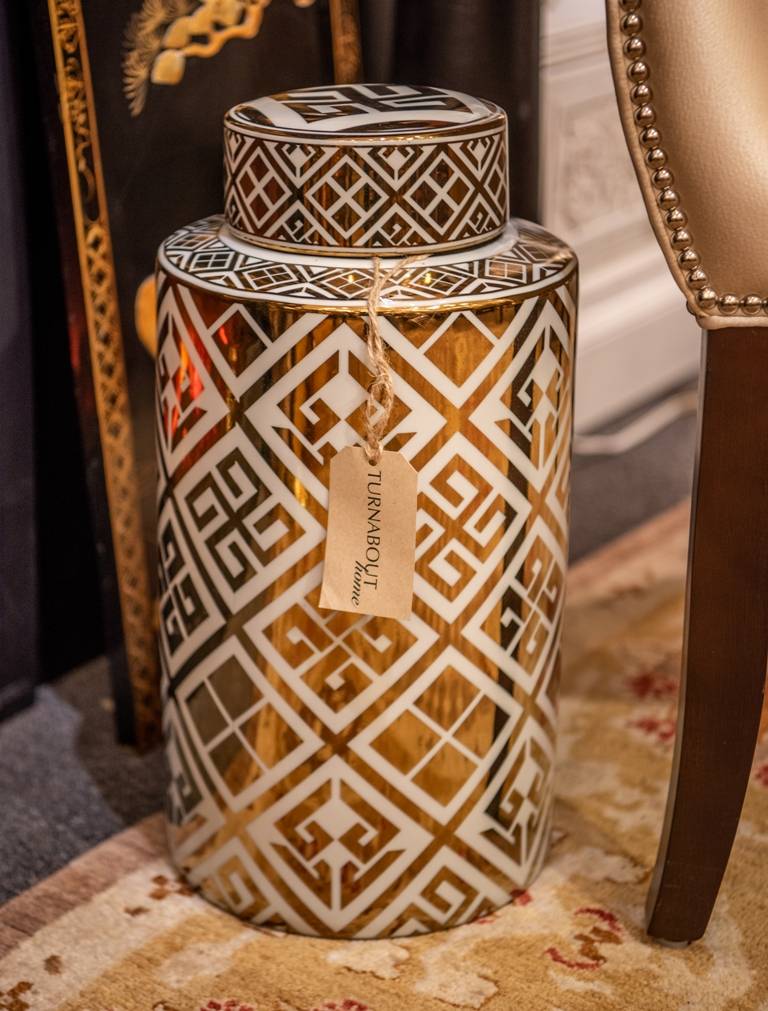 A sophisticated piece of earthenware can only add to the feel of a room. Whether used as parts of a tableau, as a vase for a dried arrangement or displayed solo for effect, choose one with attention-getting features.  
We know it is tempting to try to do all your holiday shopping at one place, and while the one-size-fits-all approach is easier, think of the memories that you are creating with each gift you give. Visit us at Turnabout Home and find the special items for the special people on your list.