New Years Wishes from Joy Mauro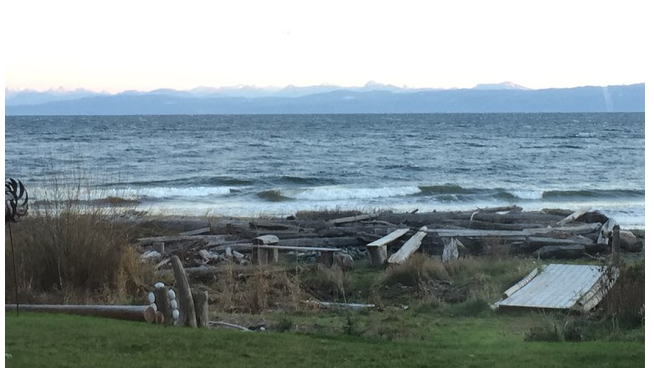 Wishing You a Very Happy New Year From Our Owner Joy Mauro

Winter and Christmas provide moments for reflection.
Christmas is over and I am sitting here at my laptop staring out at a favourite spot of mine: watching the wonderful Qualicum Beach ocean with the rain pouring and waves crashing. In the background of the waves and weather, I hear the voices of my 15-year-old twins interacting with their friends, all deeply immersed in a multiplayer computer game. The fireplace is flickering a warm glow and our two dogs are flopped out in front of me. Aaron, my eldest, has just emerged from his room and is intent on pulling out the Weber and barbecuing fish for dinner. Left-over turkey is waiting to be made into pot pies and left-over ham is boiling for pea soup. Hard to think about salad at this time of year. I catch a glimpse of my poor husband out in the soggy wind trying to free drains and tidy the yard. So many distractions, so many demands, and so much busyness! Where did this all begin?
Turnabout started forty years ago with a best friend that believed in my idea. She borrowed money from an ex-husband for us to open the store and she supported me through the startup of the business. Although she went on to other interests, I carried on with my love for fashion and the thrilling anticipation of something new and wonderful walking in the door in the arms of amazing people I was meeting. Turnabout was my first love, my passion; it was and is me.  
Twenty-two years ago, I met Mario, my husband. Two years later our Aaron was born; five years after that our twins, Jordan and Andrew, and I was well on my way down the rabbit hole known to every mother, juggling and trying to balance everyone's different needs. Wonderful but exhausting and even terrifying at times. Turnabout remained a constant in my life. Like my rapidly growing sons, over the years Turnabout steadily grew with increased staff and new store locations. Then, in 2017, life tapped me on the shoulder; it began with a trip to the hospital to have a tumour removed from my head and culminated in a family Christmas spent on the beach in Oahu that ushered in the gift of a new year with fresh possibilities. This experience brought new clarity and energy to my life—I laughingly say that now that the tumor is gone, there is more room for ideas in my head! Life is different after a health scare. Perhaps the biggest gift is the reminder to be grateful for all we have and where we find ourselves.
I celebrate a rich life here in Canada with my own family, my Turnabout family, the pleasures of home and work challenges that stretch me into being a better version of myself. I am thankful and I am amazed every time I walk into a Turnabout shop. My hard working, honest and talented staff really care about the job they do. Our shoppers and consignors/sellers are the most interesting and diverse group of people from all backgrounds and life paths.
Turnabout is about community. Each shop exists in a community and serves that community with staff from the community. We support a growing list of societies that work for the betterment of the community and are working to aid them in their fundraising efforts.
Turnabout's online store is growing and this year consigned items have been delivered all over North America. We have partnered with Le Prix which features some of our online products on their website giving our consignors even more opportunities to sell at a good price. Our Consignor Log In is open and gives consignors the opportunity to always keep up to date on their items and sales. I am working with Sherie, our Business Manager and Julie, our General Manager, looking for ways to improve store systems, staff training & incentive programs. Retail is in constant evolution and I love the challenge of not only providing good customer service but also creating relationships and great experiences every time a person enters our shops.
We face an exciting 2019. Turnabout is opening Store #7 on March 1, 2019 on Vancouver Island. David, who has worked with me for many years, is moving to Victoria and we are opening a store in Oak Bay. And, in Greater Vancouver we will be offering an exclusive Home Concierge closet clearing service with a staff member and my husband Mario (now working with me) at the helm of our Turnabout van.
Thank you for your support, for the kindness you continue to show and for believing and entrusting Turnabout with your business. I do not take this for granted and am humbled by the responsibility of doing well for you. I will continue to reshape, redefine and rework what we do as we find new and improved ways to serve you.
I look forward to sharing 2019; may we all know much peace, happiness, good health, and always have beautiful wardrobes for grand new adventures!
Happy New Year!

With warm wishes
Joy Lapka Mauro