Fashion Friday: People's Choice Awards
Fashion Friday: Suiting Up for PCA  

---
The People's Choice Awards show is a annual playground for fun and fashion. Honouring the stars of popular television, film, music, podcasts, and just about every other digital media with an award that looks like a glass missile, the PCAs are known as a happy place for the stars to get comfortable and casual with their fans.
Melissa McCarthy received an inaugural People's Icon award for her many stellar performances, whereas we love her for the villainess style she exuded in Spy! Victoria Beckham was presented with the Fashion Icon award in an all-white suit that was boxyon top and leggy on the bottom. It was her chic look that inspired this all-suit edition of Fashion Friday.
On Sunday night the stars were rocking suits, and far from the cookie-cutter tuxedo's that show up at the Oscar's, suits at the PCAs were awesome.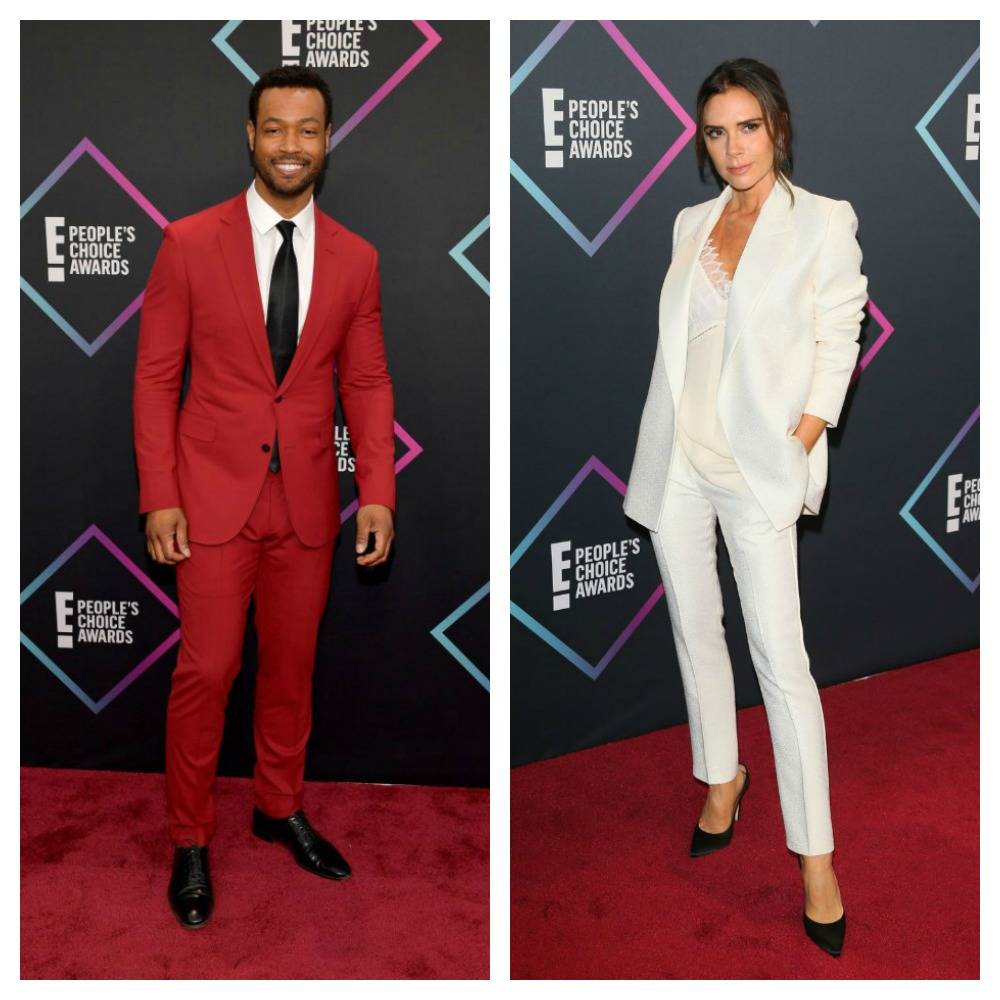 When tailored for a svelte shape, a solid suit conveys strength and power. Look at Isaiah Mustafa in this poppy red Italian fit suit. This is solid on solid on solid and so stylish. For this look, we recommend looking at Turnabout Main Street or West Broadway, for Ted Baker, Mexx, and Banana Republic.
Victoria Beckham is flawless in this shade of winter white. The jacket is just boxy enough, and the crease in the pant draws attention down to the shoe, which is simple and refined. For the PCAs she opted for a lace-trimmed cami and dressed the look down a touch. For this look try separates. Oversized jacket designers which we love are Helmut Lang, Escada, and Armani.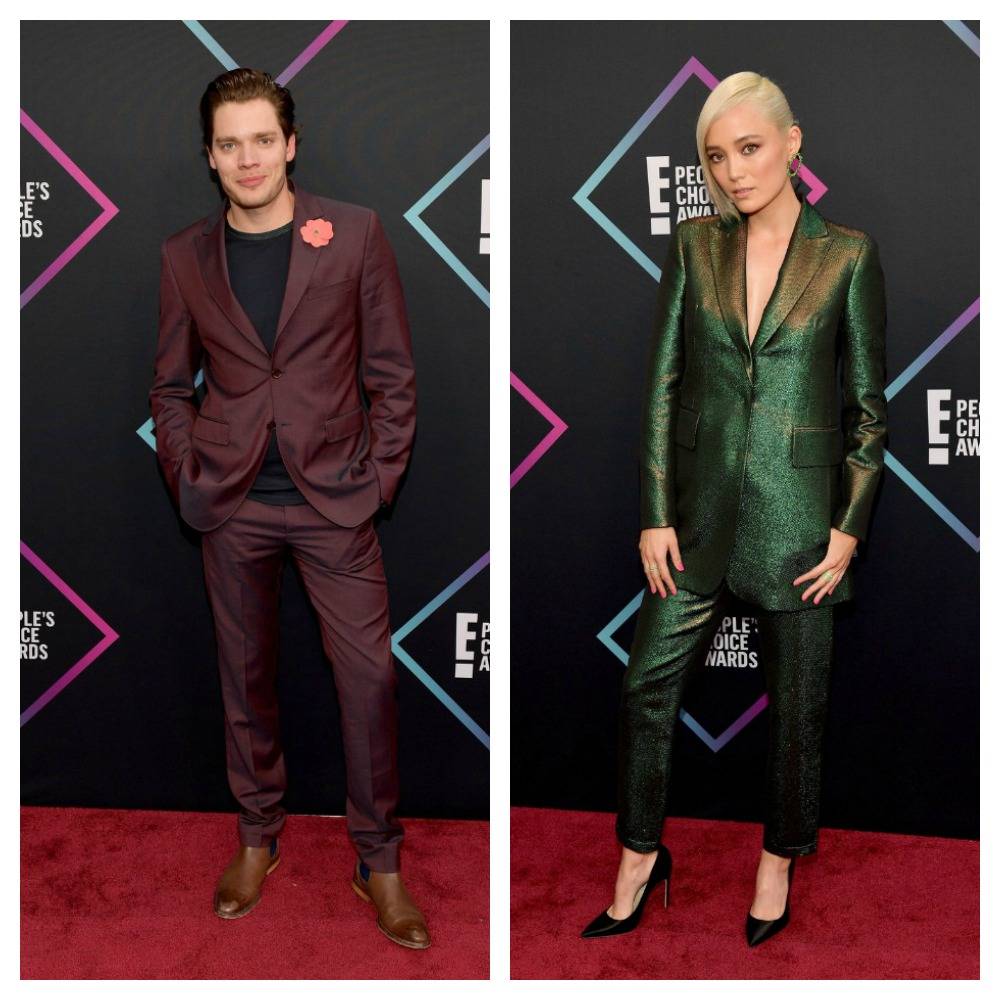 Dominic Sherwood and Pom Klementieff both rocked shiny suits but in two entirely different ways. Dominic's Ted Baker wool suit has the sheen of a waxed denim or raw silk which adds a touch of rock 'n roll to his attitude but it is Pom's emerald green suit that had her fans chanting 'Mantis' or perhaps it was 'Miyake' given its similarity to the Japanese designers' pieces from the 90s.
It takes courage to put on a head-to-toe pattern ever since the Kim Kardashian 'couch dress' took on the 2013 Met Gala. Actor Lil Rel Howery balances his black-backed floral suit with a simple black turtleneck, and Vanderpump Rules' Ariana Madix wears hers with the extended trouser and shorter sleeve to create the illusion of legginess. Gucci's creative director Alessandro Michele has reinterpreted the patterned suit and breathed life into an old format of what is considered acceptable. We say go bold, go bright, be loud and proud of your suit.
Labels to look for at Turnabout that let you get creative are Gucci, Dior, Erdem, Kate Spade, and Etro.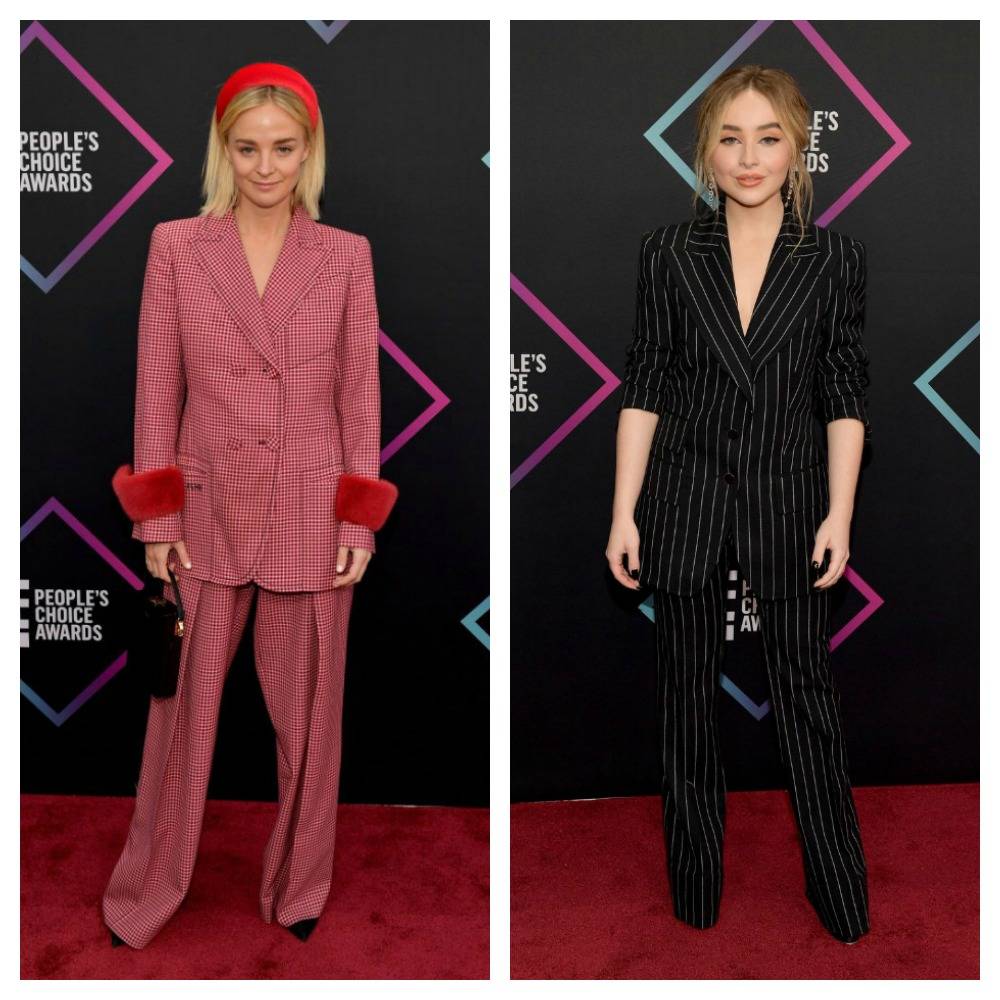 Nadia Fairfax (Fendi) and Sabrina Carpenter (Tom Ford) can both attest that a stacked shoulder and sharp lapel will fix whatever posture problems you may have. Both actors decided to forego a dress shirt and let the focus be on the suit and its clean lines. The extra long trouser is in line with current trends and can be successfully worn as a separate with a cropped sweater or silk blouse with bow.
Given that we are expecting a mild winter, a great blazer will double as outerwear in the Lower Mainland – just add a chunky scarf – to keep warm. Retro features such as the square shoulder, wide lapels, and length are popular so look for Tahari, J Crew, Armani, and Roberto Cavalli at Turnabout.
Images courtesy of eonline.ca