Turnabout and the Communities We Thrive In
Turnabout and the Communities We Thrive In
5 Sept • Helen Siwak • Community
---
Turnabout believes in community and family. The places where we live, work, raise our children, walk with our dogs, and watch the sun set. Our family of stores live in six communities throughout the Lower Mainland, each diverse, and each with their own story to tell. We invite you to take a walk.
In the heart of a neighbourhood, at Main and 13thStreet, lives our newest location. The smell of fresh brewed coffee is ever present from close-by coffee shops like 49th Parallel Café and JJ Bean, to the north is the majestic St. Patrick's Church, and who doesn't remember licking a curly top Dairy Queen cone as a child. Main Street is undergoing a shift in demographics as the 'cooler than cool' hipsters are now raising families and Turnabout is there. Colour and diversity shape the popular and designer clothing that fills the racks there.
One neighbourhood over is South Granville, with its signature heritage homes and architecture. Generations of families have lived in the stately dwellings that flank the street named after Granville Leveson-Gower, 2ndEarl Granville, British Secretary of State for the Colonies. From this community comes the love of fine design and fashion that is prevalent at our first Turnabout location. Here women shop two floors of garments carrying the tags of the original houses of couture and their current incarnations and then pop-in a few doors down at Turnabout Home and shop for home décor including antiques to contemporary furnishings, bric-à-brac to chandeliers, and fine art pieces.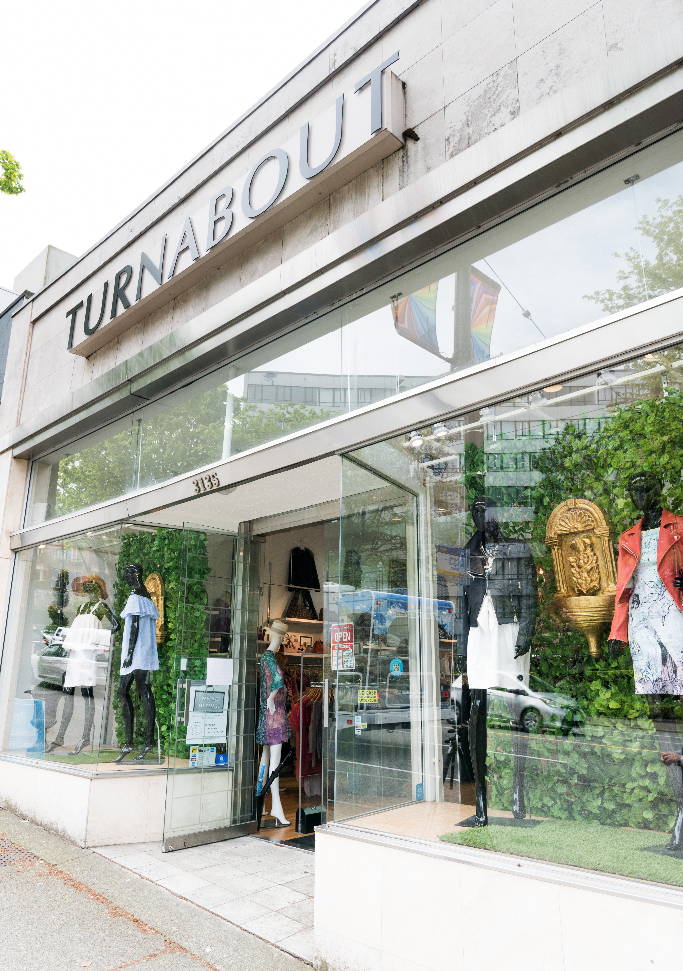 Pull on your Lulu's and jog over to Kitsilanoand you will find a natural light filled location in the midst of strollers, healthy eateries, and yoga studios. This Turnabout is for the 'movers and shakers' of the city. University students, idealists, cyclists, and those who pay homage to the environment with evening drum circles. Their tastes vary as much as their incomes, and in turn we offer everything from casual to business, to cocktail and fitness.
A 20 minute walk from West 4thup MacDonald to West Broadway and you are welcomed into a community filled with Old World charm. One could nibble their way up one side and down the other and never eat in the same country twice. Here live a community of many people: Greek, Chinese, Lebanese, Italian, Indian, and more. This Turnabout veers towards comfort, chic casual, wardrobe basics, and a selection of affordable luxury pieces.
There is always one in the family that wants to move away! That would be our South Surrey/White RockTurnabout. Venturing away from the busy city to a community of families, young professionals, newcomers, and the retired, this Turnabout is a place where women can find long-lasting wardrobe staples, fun fitness wear, versatile outwear, casual get-together looks, and dressier pieces for special occasions. This Turnabout location is tops in accessible fashion for the woman who is looking for value at an affordable price. Conveniently located in a popular shopping mall with lots of free parking and is close to amenities.
Turnabout is, and always has been, a haven for style, fashion, and fun. We love our communities and the people that shop in our stores. Whether you are a devoted Turnabout fan or you are just getting familiar with us, we welcome you to visit soon as we love putting a smiles on everyone's face.